What's New

A place for updates about my my life and projects, much more reliable than my actual Twitter account which has pretty much turned into a "No Context Caesár" account.


January 1, 2023

Happy New Year everyone! I finally finished my brand new 9:25 am album MessageBoard2000!
A musical love letter to internet forums, a forgotten communication medium from the pre-social media era. This Webcore / NEO Y2K album lets you float through the forgotten cyberscapes of the old web.




July 19, 2022

It's been a whole month since I last updated my blog!
As y'all might remember from last month, Internet Explorer has ended their support and will now convert to Edge. A netlabel called Sunset Grid came up with the idea to make a compilation album dedicated to Internet Explorer. I had the chance to send a track as well, so enjoy a brand new 9:25 am track called IExplore.exe has stopped working forever.




June 19, 2022

Happy Juneteenth kings 💛
Back in Februari, during Black History Month, black experimental/vaporwave artists from all around the world joined forces to work on a masterpiece of an album together.
That album is Griots!
Huge shout out to Tekeo for organising this!

griot (noun) /ˈɡriː.oʊ/ - In parts of West Africa, someone who passes on his or her society's history, especially through stories, poems, and music, and who takes part in ceremonies such as weddings and funerals





June 15, 2022

Today is the last day that Internet Explorer will work as a program. Microsoft announced that they'll end the support and Internet Explore will turn into Microsoft Edge.
Me, who grew up with Internet Explorer, had to write a goodbye note to Internet Explorer and pay its respects.


That's a nice and sentinental message, right? I didn't think too much of it when I posted it than I would with any other tweet expressing my goodbyes and respects to computer software.
However, I was then notified that my tweet had been embedded into an article of the Indian newspaper IndiaTimes.

That was hilariously surreal and crazy, I did not expect that at all! That made my day!!
A few days go by when I notice I have a few notifications from different social media apps as well as an email on my phone.
As it turned out, I was approached to do an interview about my tweet by no other than The Wall Street Journal!!!
This has been the craziest thing that has ever happened to me so far. I truly feel honoured to have been one of the spokespeople for Internet Explorer in it's last days!
Thank you Alyssa for the interview!


May 27, 2022

My band, glass remnant's album Monochromium/Monotonium, will release today, come check out the visualiser of the album below!!!
You can listen to the album on all streaming platforms, and buy it on casette and minidisc on the netlabel Fish Prints.


May 19, 2022

A few months ago, I was approached by the netlabel Civic Duty Records, to contribute to their compilation album Mistranslationwave Vol. 2: Subversion, and I'm happy to announce that the comp has finally been released! Featuring a brand new 9:25 am track It Is No Longer Safe To Turn Off Your Computer.
All proceeds of the compilation will be donated to Marin County/San Francisco Food Bank.






May 10, 2022

It's my birthday, I'm now a quarter decade old!! Not a better day than my birthday to drop a New Age song lol (How am I single?)



I have been working on a Webcore album for about a year now that will sound similar to the track above, the track itself won't be on the album, though.
Here's the live set from URL60: TIMEWARP, by the way. I havent been able to proprly update my website due to my browser having errors when opening Neocities.






April 22, 2022

I'm doing my first solo set at a URL festival, check out URL60: TIMEWARP on April 30, 60 artist doings 60 second sets for 60 minutes straight!
Subscribe to the Twitch!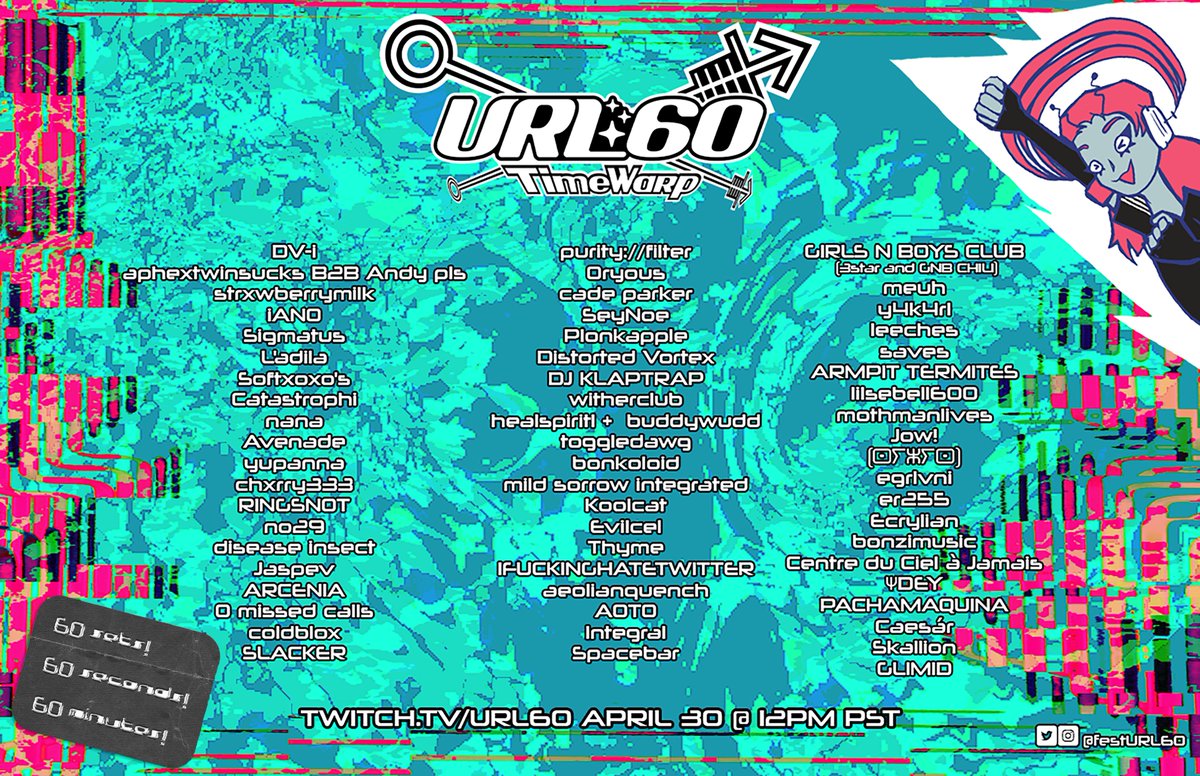 April 3, 2022

The glass remnant set from Cream Fest is now available on YouTube, check it out!!






March 30, 2022

Decided to make a news page. I do have Twitter, but it's turning into my own "no context" account, so I decided that starting a news page to share updates is a better idea!
Also wanted to share this, I am part of an Ambient/IDM group called glass remnant, and we released our debut album a few months ago!



Excited to announce that glass remnant will be doing a live set at Cream Fest this Friday on Twitch, come check it out!! I made a crazy visualiser for our set and I can't wait to share the creamy experience with all of you!!




Part of the Yesterweb Webring
Previous Random Next